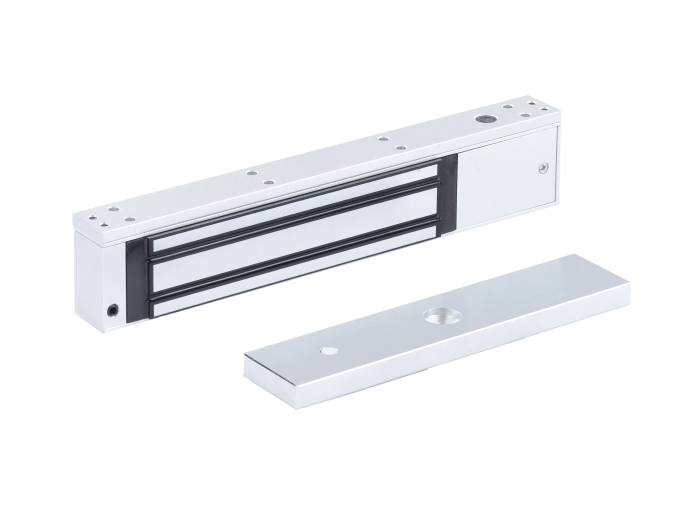 Product model: SEM-280AS
Product name: Single Door Magnetic Lock
Lock Size: 250L*47W*26H(mm)
Armature Plate Dimension: 180L*38W*11H(mm)
Holding Force: 280kg(600Lbs)
The Sebury Electromagnetic lock is using the leading production equipment and packaging technology of the international. Produced the electromagnetic lock is not only higher than similar products by more than 20% of the lock holding force, but also the antioxidant capacity of the surface of magnetic lock is reached the international advanced level. Which are widely used in airports, subways, banks, prisons, intelligent buildings.
Specifications
Advantages:
• 280KG(600Lbs) static linear holding force.
• Can Set free 12VDC or 24VDC.
• Built-in reverse current protection device (MOV).
• Anti residual magnetism design, anti-wear manufacturing materials.
• Shell is made of high-strength aluminum alloy, Anodized.
• Increase the holding Force,Dual Insulative Hosing.
• MA certified products of China / CE certification of EU.
• Complete electromagnetic suction work, there is no mechanical failure.

Parameters:
• Lock Size: 250L*47W*26H(mm)
• Armature Plate Dimension: 180L*38W*11H(mm)
• Holding Force: 280kg(600Lbs)
• Signal output: YES
• Input Voltage: DC12V or DC24V
• Working Current: 12V/480mA 24V/240mA
• Door Type Applicable: Wooden door , Glass door ,Metal door , Fireproof door
• Time Delay: NO
• Security Type: Power off to open
• Weight: 2kg